Once upon a time in the summer of 2002, my wife decided to liberate a nameless garden gnome from his big-box prison. We were in the planning process for a trip to "SalmonFest," a three day music festival held at Bearcat's Getaway on the Black River in Lesterville, Missouri, featuring
Leftover Salmon
as headliners. Included in the festivities at SalmonFest was the "Parade of Judgment," a meandering, late-night parade/campsite judging contest that was more about extending the party through the wee hours until sunrise than it was about passing "judgment" on anyone or anything. Since this was our first music/camping festival of the New Millennium, we did not invest the time, energy and creative effort to have a "competitive" campsite, but thought that, at the very least, our recently adopted gnome would add a bit of character to our temporary home-away-from-home. As time has passed, we've continued to find fun festies to serve as our version of the summer vacation, and our little gnome always comes along for the ride.
In the spring of 2007, we returned to Lesterville and Bearcat's for "Festivaaaal," a smaller two day, mostly bluegrass/newgrass/jamgrass fest that featured Vince Herman (former and current member of the recently re-united Leftover Salmon.) We set up our campsite as always, with the gnome playing the role of Welcoming Committee, front and center.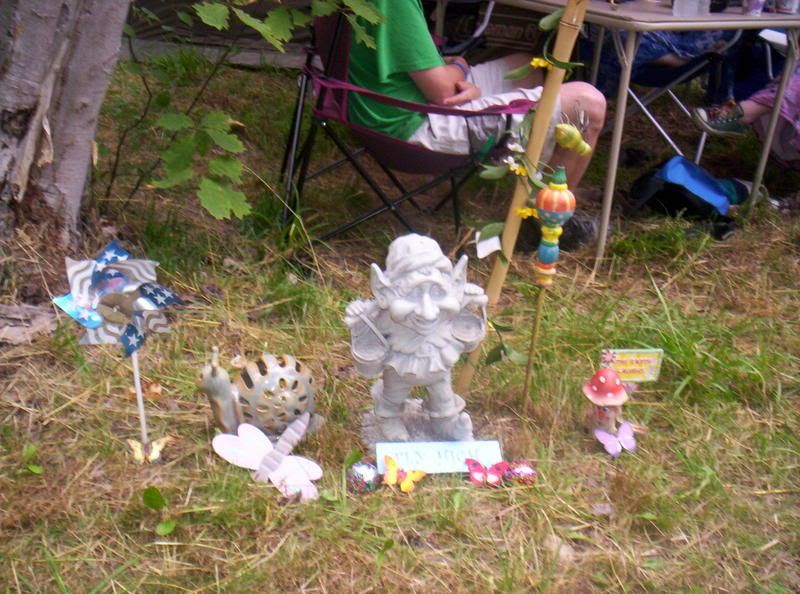 Later that morning, Vince was strolling through the campground, stopping here and there to say hello, strum his mandolin, and make small conversation. He took one look at the gnome and cackled.
"What's his name?" Vince inquired.
Caught off-guard, I replied, "Ummm... I dunno... he doesn't talk much. We just call him 'Gnomie.' "
Vince stood in thoughtful silence for a moment, then blurted out, "DEWYA!!"
"Huh?"
"Dewya! Dewya Gnomie!!!" Again he began to cackle, and the rest of us joined in as we caught on to the meaning of Mr. Herman's declaration.
Assuming his silence to be acceptance of his new moniker, we adopted the corny-but-catchy pun, and that's how Dewya Gnomie got his name.